NZ Ch Justice For All Of Hawai
"Justice"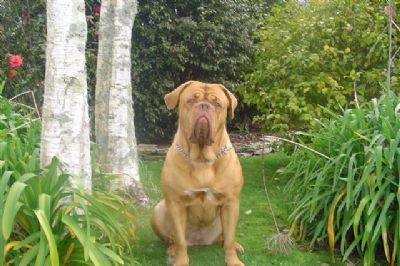 ~~ NZ. Ch JUSTICE FOR ALL OF HAWAI ~~
Justice is the reason we love the dogue breed so much.Thankyou to Marion Slagter for this wonderful privlage to be owned by the DDB breed. She is an amazing dog and offers many great qualities desired by the dogue standard.
She lives in New Zealand on our lifestyle block where shes enjoys her time venturing and playing with our children and the other animals. She is currently in the show scence and doing really well. Even though she started out in the ring later in life she is improving all the time.
Justice has a wonderful nature. And is just really a pleasure to own. One day we plan to bred this special girl but want to wait for that Mr Right for her.

Pedigree
Sire : Barbarian Ancient Lord
S: NZ CH. TNT's Gilbert De Merrimac (IMP-USA)
S: Denarius Lof
D: THT's Spinky De Merrimac
D: CH. Barbarian Wild Maiden
S: CH. Barbarian Gentle Bear
D: TNT's Morticia De Merrimac
Dam : Crusade Lady Hawk
S: Barbarain Ancient Armer
S: CH. Barbarian Huggie Bear
D: NZ CH. Gargoville Des Coteaux De L'Autan (IMP-Fra via USA)
D: CH. Yoskar-Ola Of Integritas
S: Istarskog Porijekla Lebeaux (IMP-FRA)
D: Istarskog Porijekla Letoya (IMP-FRA)