NZ Ch Moloscyg Dressedtimpress (Imp Aust)
"Tux"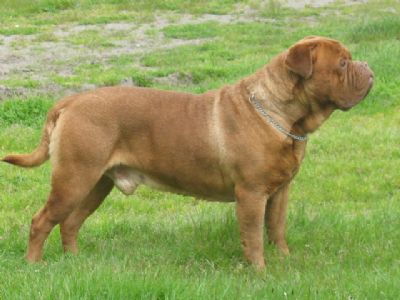 LATEST NEWS: As part of our routine health testing, Tux has recently undergone a specialist heart exam and we are thrilled to announce that he is now heart certified normal. Whilst I would love to be able to take the credit it must instead go to his Australian breeders Dr. Chris & Yvette Girling of Moloscyg Kennels, a name synonymous with breed excellence.

Tux comes to us from Moloscyg Kennels in Australia and we thank Dr Chris & Yvette Girling for allowing this lovely boy to come and live with us.
His pedigree is of a quality never before seen in New Zealand, and with a star studded line up of International Champions it's fair to say Tux is a member of one of the most successful Dogue families in the world today.

Tux has slotted perfectly into our family and has quickly made himself at home.
His favourite activity is chasing (and destroying) balls, followed closely by sleeping under the shade of a tree.
He can also been seen strutting his stuff at shows around the North Island.


Pedigree
Sire : Aust CH Bakervill's Style Valton (Imp Neth)
S: Neth CH Temple Felson (UK)
S: Majestik Red
D: Laruscades Mandy
D: Multi CH Brandoux Calaix (UK)
S: Multi CH Signore Kwan des la Seigneurie des Chartrons (Fr)
D: Neth CH Laruscades Bibi (UK)
Dam : Moloscyg Odessa
S: Aust CH Zamadeus Garde d'Honneur du Monde (Imp Belg)
S: Buddy-Kobus v d Weelsedijkhoeve
D: Melody v Douvergenhout
D: Aust Gr CH Laruscades Tazz (Imp UK)
S: Bencevary Royal Crown Amadeus
D: Tanakajd Szepe Mandi (Imp Hun)