NZ Ch Cobain Of Frenchaffair
"Cobain or Bain Bain"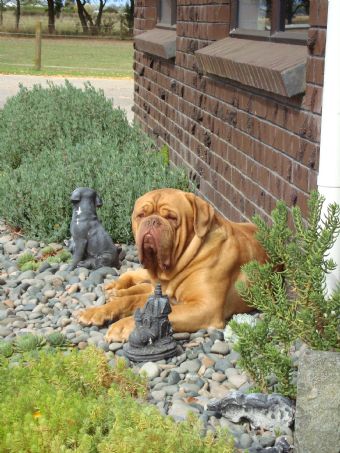 Cobain at just over 12 months has gained his NZ Champion title. I feel he has matured into a good example of the breed and feel he has a place in our kennel and breeding program. Cobain's head type caries true type. Cobain is a son from our girl Justice and Vinnie aka Moloscyg Vintage Kool(Imp-Aust). He is a wonderful laid back character .
Cobain has been hip & elbow scored with excellent results and is heart certified normal.
Photos at 18 months old.
Pedigree
Sire : Moloscyg Vintage Kool (Imp-Aust )
S: Bakervill's Style Valton (Imp-NDL)
S: Temple Felson (UK)
D: Brandoux Calaix (UK)
D: Moloscyg Briana
S: Aust Ch. Laruscades Monet (Imp-UK)
D: Tanakajd Szepe Mandi (Imp-Hun)
Dam : NZ Ch. Justice For All Of Hawai
S: Barbarian Ancient Lord
S: NZ Ch. TNT'S Gilbert De Merrimac (Imp-USA )
D: Ch. Barbarian Wild Maiden
D: Crusade Lady Hawk
S: Barbarian Ancient Armer
D: Ch. Yoskar-Ola Of Integritas