Hawai Hope Springs Eternal at Frenchaffair
"Hope"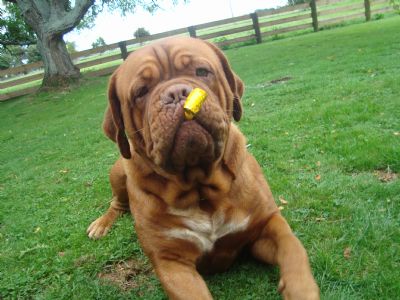 Hope came to our family and kennel from Marion at Hawai Kennels. We can not thank Marion enough for this wonderful opportunity. Hope is a clown and always provides hours of entertainment. Where ever Hope is, Faith is normally right there also. Hope is maturing nicely and is showing alot of great strengths. We look forward to watching her progress.


Hope has been hip & elbow scored with pleasing results and is heart certified normal.
Pedigree
Sire : Mountainhill Filo Bedo (Imp UK)
S: Merignac Soloux of Brandoux
S: Brandoux Marcoux Poloux
D: Brandoux Fleur de Lys
D: Dromorez Miss Rouge
S: Chien Doucer Narniac del Dromorez (Imp Swe)
D: Emberez Golden Eye'z
Dam : Moloscyg Ms Nellie (Imp Aust)
S: Moloscyg Fonz
S: Laruscades Hugo
D: Katty de el Siscar
D: Bakervill's Style Verona (Imp Neth)
S: Temple Felson
D: Brandoux Calaix