NZ CH Chienparadis Cheri Brise ( Imp Aust )
"Breez"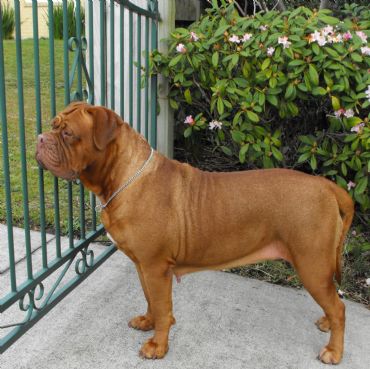 Breez is a huge part of our family she is a very loving girl and gives us many laughs along the way.
Her pedigree is a virtual whose who of some of the most famous dogs , and kennels, in the Bordeaux breed worldwide, including the great Temple Felson and the stunning Signore Kwan de la Seigneurie des Chartrons as well as the beautiful Catherrine du Vignal de Fenelon.
Breez has excellent bone but still being feminine ,she is typey and very nicely balanced.

Pedigree
Sire : Aust Ch VIncent Al Gos Yagant
S: Arg Ch Tanakajd Szepe Dusty
S: Jnr Wld Ch Temple Felson
D: Int Ch Tanakajd Szepe Fibra
D: Arg Grand Ch Catherrine du Vignal de Fenelon
S: Int/Eur/Blg/Frn/Lux Ch Signore Kwan de la Seigneurie des Chartrons -
D: Zita van der paterhoek
Dam : Aust Grand Ch Cheinparadis Chaunte
S: Aust Ch Runderkraal Jourdain
S: Int Ch Leew de la Maison De Hollande
D: Ch Gravin Scherin Von Ruflohof
D: Aust Ch Ataraxia the Jazz
S: Arthur Von Wardersee
D: Aust Ch Cauchis Amber